Chinese Massage - for your child


Have you ever given your child a massage?
What benefits will your child gain from a massage?
Improves general well-being

Improves circulation

Enhances neurological development

Daily massage helps parents to unwind and relax

Helps child to sleep deeper and more soundly

Provides intimate time with parents
Oil based massages can be very relaxing and soothing and help to reinforce the bond between parent and child. Chinese massage or Tui Na does the same and much more and can be done through clothing.
Chinese remedial massage was developed more than 2000 year ago, it is a safe, non – invasive, low cost and extremely
effective therapy, for the treatment of a wide variety of common childhood ailments. Unlike Western oil based massage, Chinese massage uses very specific protocols or treatments for specific ailments. Most common childhood complaints respond in only one or two treatments. Here we introduce some basic technique of Chinese remedial infant massage to maintain the well being of your child.
Spinal massage for improving general well being
a . Start from the sacral to the neck, use your thumb and other fingers to grasp the skin surface both sides of the spine, make sure there is no pain, start from the lower back to neck for about 3-5 minutes. (See picture 1a)
b
. Start from the neck to the lower back, use index and middle fingers to go up and down 30-50 times. This may help your child with

fever, diarrhea, constipation and chronic diseases.
1.a 1.b 2.
Begin between the scapula, use both thumbs for about 30-50 times. This may help your child with

fever, cough, or is shortness of breath. (

See picture 2).

Stomach massage for stomach ache, diarrhea, vomiting.
a. Start from the xiphoid (base of sternum) to the lower ribs in front of body. 30-50 times.
b. Use four fingers or both hands, clock wise massage around the stomach for 2-5 minutes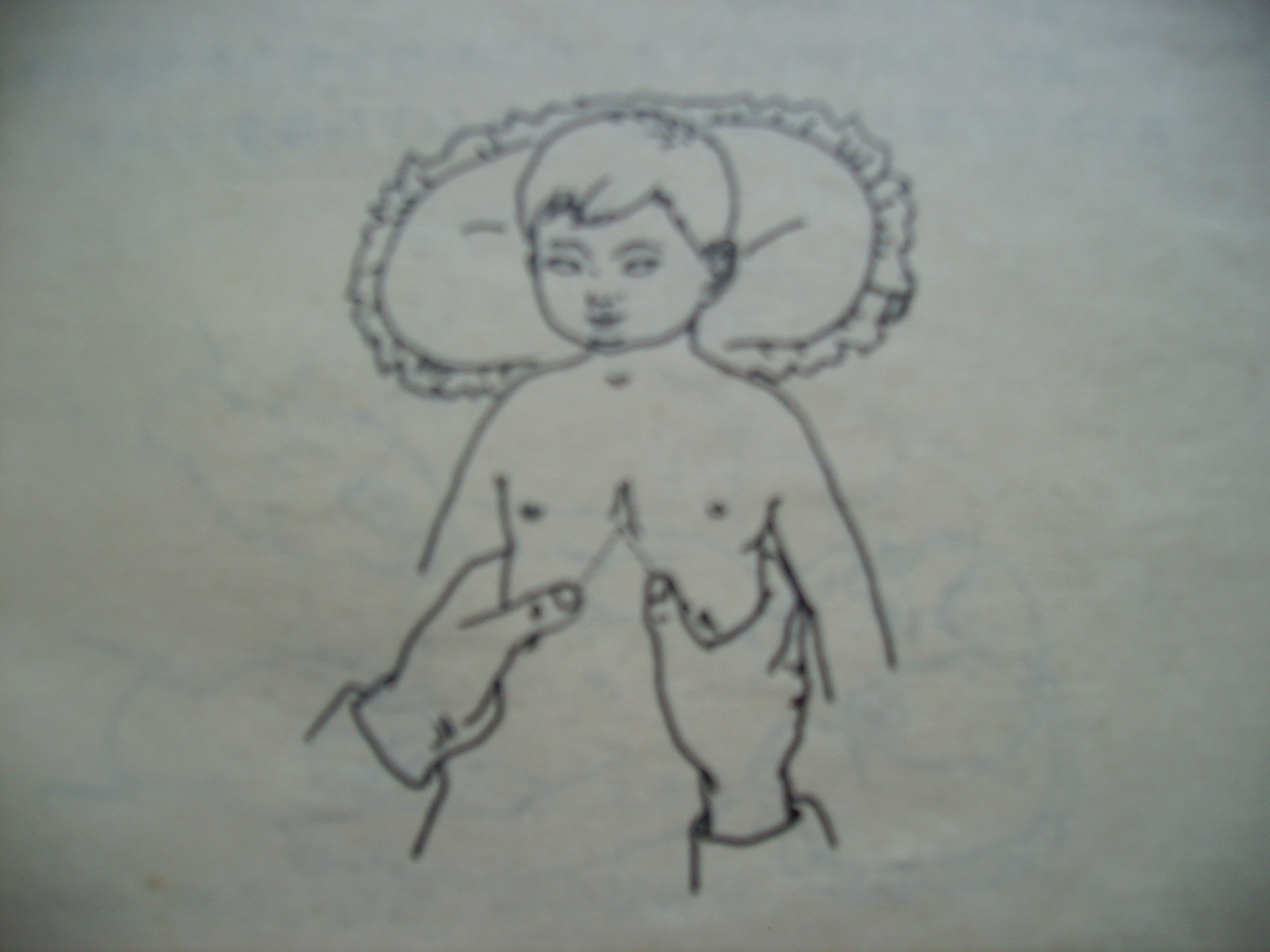 3a 3b
4. Children with Asthma (Child face down)
a. Parents use your hand to massage the child's back between scapula for 3 minutes.( 4a)
b. Use your thumb to massage indicated area for 1 minutes. (4b)
c. Use your first 3 fingers to grasp the shoulder 10 times. ( 4c)
4a 4c 4b 5a & 6d

5. Children with eating disorder

a. Use your thumb or middle finger to massage indicated areas, for 1 minute each. ( 5a)

b. Use both hands to massage the stomach, use clock and anti-clock wise directions for 3 minutes. (See picture 3b)

c. Repeat massage 100 times (see picture 3a).

d. Repeat massage 10-15 times (see picture 1a).

6. Children with Eczema

a. Massage 4th finger 300 times, notice the direction. (See picture 6a).

b. Massage Index finger for 100 times.

Use opposite direction of picture showed.

(See picture 6b)

c. Use thumb, index and middle finger to grasp indicated areas. (See picture 6c)

d. Massage indicated areas for 1 minute. (See picture 6d note: two areas)

e. Repeat massage 1a for about 5 minutes.
Please see Dr David Li to get more details or find out what suits your child best. Tel: 9602 3636